Oren Shuster
Chief Executive Officer & Director
One of Israel's prominent experts in the field of medical cannabis, Oren brings more than two decades of proven entrepreneurial experience in founding and growing companies in the med-tech and technology/software industries.
Prior to IMC, Oren co-founded E-wave with a vision to create an international tech company that provides software solutions for enterprises in digital, IT, HR, and medical technologies. His vision was realized fully and today, E-wave is a global software house that employs 1,000 professionals with operations in the U.S., Canada, Brazil, India, and Israel.
In addition to a tremendously successful entrepreneurial track-record, Oren has held executive positions at companies within the telecom and digital media industries.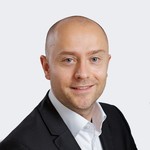 Richard Balla
CEO and Director, German Operations – Adjupharm GmbH
Richard Balla is the CEO of Adjupharm, IMC's fully-owned German subsidiary and the company's main European hub. For nearly two decades, Richard has brought his strategic business mindset to senior roles within the German pharmaceutical industry with a specialty in manufacturing, distribution, sales, and the parallel import of pharmaceuticals, medical devices, and cosmetics.
He brings a unique professional background and experience in the German medical cannabis sector. This deep knowledge ensures market entry and expansion understanding to support IMC's growth plans in Germany and other European jurisdictions that are on the verge of medical cannabis legalization.
Prior to leading Adjupharm, Richard acted as a founder, early-stage shareholder, advisor, and director of multiple international companies in the pharmaceutical and medical cannabis sectors.
Before his entrepreneurial career, Richard served as Head of Market and Product Development at ACA Müller Pharma AG, one of the first and leading parallel import companies in Germany. In this role, he was responsible for ACA's portfolio of 2000 branded pharmaceutical products, which were distributed to German wholesalers and pharmacies. Richard holds a bachelor of business administration degree from Gewerbe-Akademie Konstanz.
Itay Vago
Chief Financial Officer
With over 15 years of experience as a finance executive, Itay brings expertise in multinational, publicly traded companies in the high-tech and pharmaceutical sectors.
Itay has proven experience in leading finance teams, supporting strategic organizational plans and commercial strategy. In addition to investor relations, he has wide knowledge in financial reporting, controllership, FP&A, tax and transfer pricing, operations, economic/patient models, payroll, labor and commercial law, as well as working with financial institutions and building internal processes.
Before joining IMC, Itay served as senior finance manager at AstraZeneca Israel and CFO at Telit Communication PLC.
Itay is a Certified Public Accountant (CPA) and holds a BA in finance and accounting from Bar-Ilan University and an MBA from Tel-Aviv University.
Michal Lebovitz Nissimov
General Counsel
Michal is an experienced lawyer with expertise in corporate, commercial, business and consumer law, M&A advisory services and cannabis regulation and compliance.
As a member of the senior management team, Michal oversees all corporate legal and regulatory aspects in a highly regulated sector. IMCC's reporting obligations as a publicly traded company, annual operational planning, execution of key, strategic projects, and translating strategy into actionable goals are all part of her remit.
Michal thrives in a fast-paced and high growth environment. Her extensive knowledge and experience in legal affairs, related to medical cannabis, are key assets that inform IMC's growth strategy and execution. Before joining IMC, she worked in the legal services industry as a senior lawyer at several leading Israeli law firms.